Maureen Decker - Milford, CT
"About a year before my wedding my fiance and myself had gone for some prenuptial photographs. When the photographer innocently mentioned that something did not look right with my teeth I knew it was time to get it corrected. Dr Rechter is a perfectionist and my smile for the wedding photos were spectacular."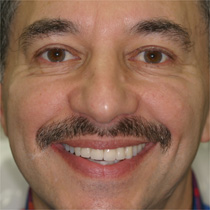 Brian Ellis - Franklin Square, NY
"I was never happy with the appearance of my front teeth. They always looked big and bulky. After treatment with Dr. Rechter I have never been more thrilled with the natural appearance and comfort they have now provided me. His office is incredible and his skills are superb."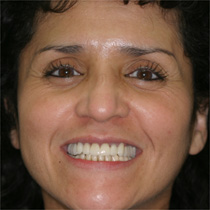 Phyllis Dohn - Baldwin, NY
"I have had extensive dental work done for the majority of my adult life. I am somewhat of a "chicken" in the dentist's chair but not when I go to Dr. Rechter. He is a very caring and compassionate person. He has given me more confidence in my smile by greatly improving the appearance of my teeth. He does fabulous cosmetic and crown and bridge work. The dental work is superb and the entire staff are consummate professionals."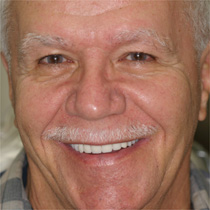 Nicholas Dellerio - retired Massapequa, NY
"Thank you for my beautiful smile. I was always self conscious about smiling and now I am comfortable and confident all the time. I feel and look years younger and thank you and your staff for always being considerate, kind and caring."
Peter Gusmano - Executive VP of Advertising - Rockville Centre, NY
"After considerable evaluation, I decided to follow your detailed plan to improve the cosmetic and dental benefits of giving me a 'new smile'. You made every step of my treatment as comfortable and stress free as possible. The final results were simply outstanding and amazing. I am so grateful to you!"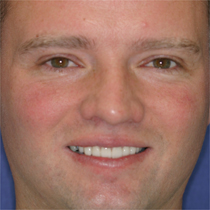 James Joyce - Oceanside, NY
"Thank you for giving back my smile just in time for my wedding. You have such passion for your work and want eveything perfect, which is what I have always wanted in a dentist. You communicate with your patients on a personal level which is hard to find these days as I always felt comfortable with you and never felt pressured into anything. Your staff is amazing and I am so happy I found such a great dentist."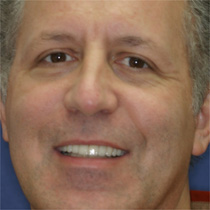 Bill Luther. General Contractor, Massapequa Park, NY
"Michael, I just want to thank you for taking on my case and delivering an exceptional result. I know I can be a difficult patient to deal with, but you truly exceeded my expectations. My case was a large one that we had talked about for years and never once did you ever rush me to do anything I was not comfortable with. Looking back, I don't know why I waited so long."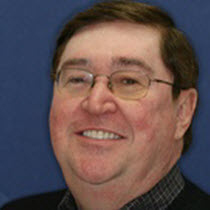 Brian Troy-Long Beach
"Thanks for the great work you did on my veneers. The work you did was life changing. I have to say that the experience was an excellent one.
Its hard to believe the difference it made- not just in my appearance but also in my confidence levels. For years I have been very uncomfortable in taking photographs or even in public situations and you changed all that.
It is odd to say but you made going to the dentist a pleasure and that is definately a talent that not every dentist possesses."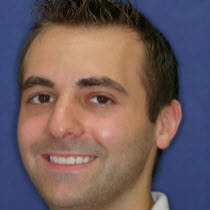 Antohony Pinello- Rockville Centre
"After years of living with a subpar smile, I finally decided to get the cosmetic dental work I had always wanted. The moment I walked into the office I knew it was a good fit.
It is clear that dentistry is not only Dr Rechter's profession but his passion as well and it was an easy choice of who to trust with perfecting my smile. Given the extent of work I needed I actually looked forward to the appointments ( and how often do you hear that?).
I could not have made a smarter decision. My smile came out better than I could have hoped and the thought and perfection Dr Rechter put into my smile definately shows. This is the first time in my life where I actually smile for pictures.
Thanks Dr R!!"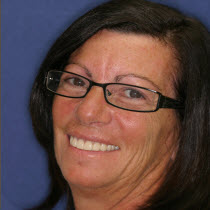 Debra Ritter
"I want to express my deep appreciation for the wonderful experience I have had with Dr Rechter.
It had been 20 years since I had last seen a dentist and I was petrified. However, I can honestly say that even though I was really afraid the office was calming and I truely felt "safe".
Dr Rechter was more than I could have expected as he was totally understanding, patient, honest, sincere and nonjudgemental. I cannot put into words how great all my subsequent visits were handled.
I was always welcomed with a smile, never rushed and Dr Rechter was always positive. I will never go anywhere else!
This is a very special office with talented and gifted indidviduals. I will never forget all they have done for me."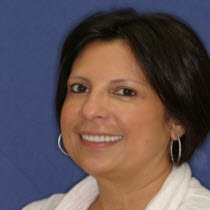 Claudia Cozza
"I love my beautiful smile and I can't thank you enough. You and your staff made every step of the process so comfortable. This was my best experience at the dentist ever and the best part is my smile. There are no words to express my thanks."
David I. Peck, DMD – Springfield, MA
"I am a general dentist in Massachusetts, yet my own dental phobias have kept me from visiting the dentist and having my own teeth fixed. That was until my visit with Dr. Mike. My first visit was filled with procrastination and sweaty palms. But to much of my amazement, it was great. The needle was painless and I never felt anything. The time flew by and before I knew it, the procedure was over. New fillings, bonding and my teeth feel brand new. My teeth feel great and they look great. No pain, great service and a phenomenal dentist. It was a great experience which went really well. I would recommend to everyone in the Long Island area to put their fears "on hold" and visit my dentist, Dr Michael Rechter. He is no doubt the BEST dentist I have ever been to and can't wait until I can visit his dental office again. The fear is gone and I feel great. Thanks a lot Mike."
Dr. Walter Zamore – Dentist – Brooklyn
"Mike, As a dentist myself, I found it a difficult task in choosing a dentist for myself. Until I allowed myself to be treated by you, I was insecure about having dental treatment. Your work is meticulous, your knowledge is incredible and the end results have been magnificent. Obviously I can truly judge the quality of care I received and it was top rate. Your time with me was always generous and your compassion towards my dental problems was genuine. My sincerest thanks for the extraordinary job you did for me. I would have no hesitation in sending my family to you when I retire."
Rosemarie D
"Dr. Rechter has been my family dentist for over seven years and the service just keep getting better and better with every visit. As a customer, you are always treated with courtesy and respect. Every staff that I have ever come across has been very professional. They make you feel welcome, comfortable and is always accommodating. Love the service!!!
The office is beautifully updated with state of the art equipment. The environment is clean and inviting. You are in good hands at the Long Island Dental Excellence. I would recommend Dr. Rechter and his dentistry to everyone."
(5 stars)
by Rosemarie Daley (March 29, 2014)
Roberta Mercurio – Manager Flight Operations – Lynbrook, NY
"Dear Dr. Rechter, Thank you all for making me smile again without my hand in front of my mouth. "Doc"…..BRAVO!! My own teeth never looked this good!"
Teresa Seinwels - Hairstylist- Lynbrook, NY
"I can't even begin to tell you how happy I am with my teeth. I really never thought the end result could look this amazing. Not to sound so dramatic but you really changed my life. I can smile with such confidence now. I want to thank you and everyone in the office for your professionalism throughout this process. You always made me feel comfortable during each visit. Again THANK YOU!"
Jack, 7 years old
"Thank you for getting my cavities filled. I want to be a dentist just like you when I grow up."
Jacqueline Agresta – School Social Worker - Rockville Centre, NY
"I just wanted to thank you for the AMAZING work that you did on my teeth over the past year and a half. You actually made coming into the office a pleasurable experience. Your staff is friendly and professional. My teeth look amazing and I am sooo pleased!!! Thank you so much."
Angela Montalbano – Food Inspector - Rosedale, NY
"I want to thank all of you for your kindness. Your compassion has made my life much less stressful. Thanks again for pain free dentistry!"
Evelyn – Legal Secretary – West Hempstead, NY
"Allen and I are really new patients to your practice and from the first day that Allen came aboard, he came home to tell me about your office and the marvelous way one is treated. My first meeting with you was as an emergency after hours which was handled solo well. I was not even an official patient of yours and yet you showed me compassion and care which I desperately needed. When in your office I always feel welcome, comfortable and just not a number. I definitely know now that changing to your practice was the best decision I could have possibly made. Thank you!!"
Robin Q., mother of three
"Since my children's first oral exam, Dr. Rechter is the only dentist they've known. It was never a question in my mind that he would make my children's dental experience a positive one. His gentle nature and mild manner has always been a comfort to my kids with what could otherwise be a stressful experience. He has always treated them with the utmost respect and talked them through every procedure. My children always welcome their dental visits."
Hilda – Sales – Rockville Centre, NY
"I would like to tell you just how much my husband Rick and I appreciate having you as our family dentist. You are an absolute master of your profession. Your calm and caring demeanor has conquered my previous unrelenting fear. We are also both aware of and appreciative of the excellent quality of training exhibited by your staff which is both comforting and reassuring."
Matthew K
"excellent services skilled & caring staff. ultramodern state of the art facility."
(5 stars)
by matthew kleinman (April 15, 2014)
Anna O
"As always it was a pleasurable and relaxing experience. I can't remember the days before Long Island Dental Excellence when I was fearful of going to the dentist."
(5 stars)
by anna oreilly (March 20, 2014)
CD
"Very friendly staff plus excellent care equals 5 star rating. Truly made me feel like they cared about my comfort and my teeth. Actually looking forward to going back - who ever said that about going to the dentist."
(5 stars)
by CD from RVC (March 17, 2014)
Whitening for brighter natural looking teeth
Would you like your smile to be a bit brighter than it is right now? We can make it happen at Long Island Dental Excellence, with professional tooth whitening for brighter natural looking teeth. Dr. Michael Rechter's Rockville Centre, NY area office can effectively lighten your stained or discolored tooth enamel. Whiter teeth not only look great, they improve your self-confidence.
Relax with sedation dentistry
New and safe sedation dentistry with Rockville Centre area sedation dentist Dr. Michael Rechter means you can have years of dental treatments done quickly while you're lightly sedated, with little or no discomfort. If you've been putting up with discomfort, hiding your smile, or delaying scheduling dental work because you're too busy, your life is about to change. Make a sedation dentistry consultation appointment today with Dr. Rechter.
Your comfort is our first concern
Here at Long Island Dental Excellence, your comfort is our number one priority. We will do our utmost to put you at ease and keep you feeling relaxed and secure. Under the experienced leadership of Dr. Michael Rechter, our dedicated team of professionals is at your service to explain your treatment thoroughly and answer any questions you may have.
Restorative dentistry to reclaim your natural smile
Rockville Centre area restorative dentistry at Long Island Dental Excellence can produce natural-looking results. If you have a damaged or missing tooth, we can help.
Our highly skilled team will assess your need for a crown, bridge, implant or other procedure to restore or improve your smile. Our goal is to provide quality dental care for your life-long oral health.
Dental payment plans available - just ask us!
Rockville Centre area dentist Dr. Michael Rechter offers dental payment plans so you can afford the treatment you need. Just talk with our friendly team about your needs.
We'll be happy to work with you to find the solution that fits your situation. We're committed to making your oral health a reality.